Saturday evening, we were blessed to share Thanksgiving Dinner with friends. Thomas hails from Dallas and even though he has been here in Australia almost 12 years - all his adult life - and has an Aussie wife and Australian born children, like me, his heart will always belong to his homeland.
Wow... so much food!
16 adults and six children sat down together this year.
Ham, Turkey, cornbread dressing, mashed potato, green bean casserole, baked beans, cream peas, green salad, gravy, cranberry jelly...
This is the fourth time we've shared Thanksgiving and for the first time ever, we made it past dinner to dessert! LOL! Pumpkin pie, candied yams, apple pie and ice cream.
Oh. My. Goodness.
Most of this is food that is completely alien to an Australian/New Zealander's table. Ham and Turkey of course are fairly typical Christmas fare but more likely to be eaten cold than hot. Mashed potatoes are normal every day food but the rest... you're unlikely to ever find them gracing our tables. I love the Boston Baked Beans - Thomas laughs at me cause I love them so much.
I have to admit, As much as I LOVE the main meal, the savory side of the spread, I wasn't so thrilled with the dessert. The pumpkin pie was nice but the candied yams produced a collective "What the???" around the table. LOL. We are more used to eating our sweet potato roasted and sprinkled with salt and pepper. To see them served crusted in brown sugar, maple syrup, spices and topped off with marshmellows... My teeth hurt just looking at them! The Apple pie and ice cream, well I think that's "normal" for any Western table :)
All in all, a wonderful night. Of course, it's not an Australian holiday, that's why we had our meal Saturday night. We return their hospitality at Christmas and set an utterly non-traditional table.
I had planned on showing you some photos of the amazing spread but I appear to be unable to operate the camera under the influence of such an over-abundance of food! LOL... what's that you say? No, definitely not under the influence of anything stronger than lemonade! I was driving.
I did get a photo of the ham - this thing was HUGE. It tasted utterly divine...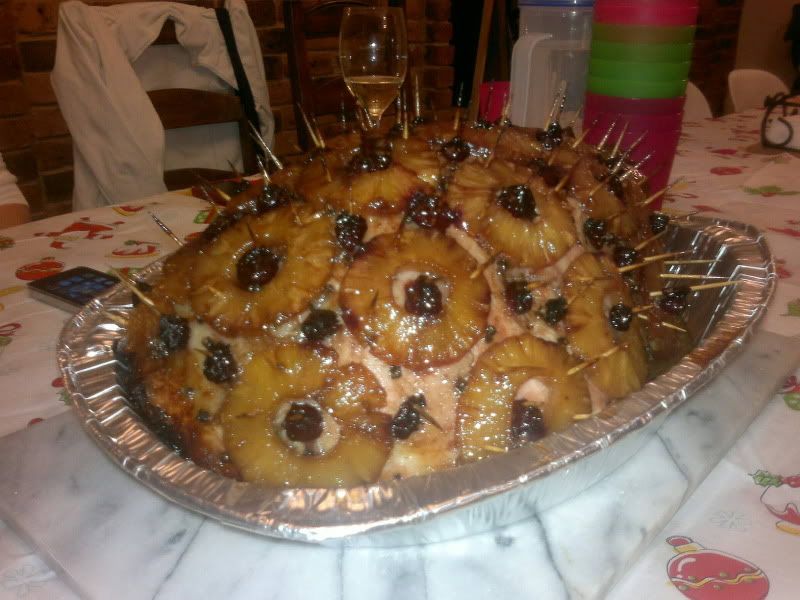 So, my compliments go out to the chef. Amazing work Thomas.
A belated Happy Thanksgiving to you all. I hope it was a blessed holiday for you all.
xxx
K