...and that has to include birthday presents one gives oneself!
*insert happy dance of the birthday kind*
Ok, my birthday was back at the end of July but I figured the most sensible thing to do with the money in my account was to pay things like power/gas bills, rent, kid's school fees - you know, all those grown up things. Blah.
I sat here and watched the exchange rate rocket to an amazing high and debated over the contents of my 123 shopping cart. I filled it, chucked it all out again... "Do I? Don't I?
Should
I?" Well, once I'd been the grown up of the household and paid the bills, the answer appeared to be "Why the heck
shouldn't
I???"
So, without further ado; Grab your drool cloth, settle back. Here are the good things that came to me after an extra month of waiting: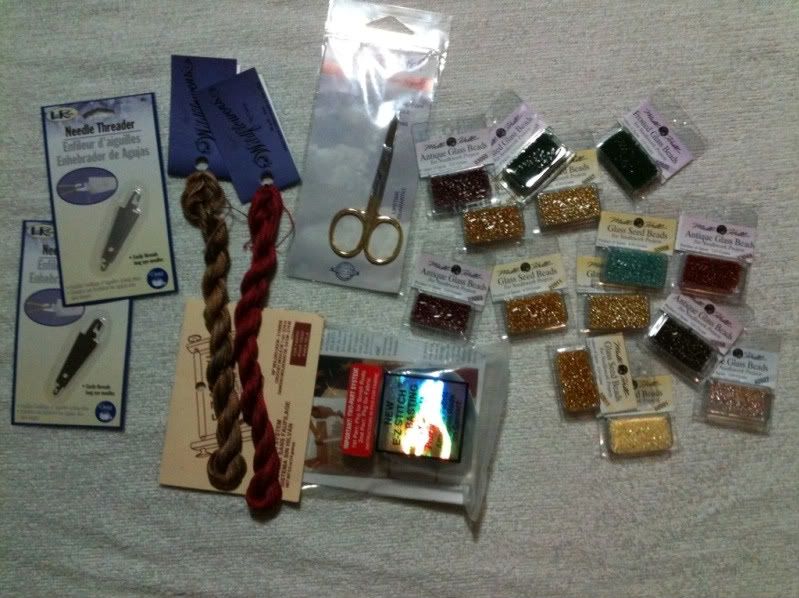 Bits and pieces; beads, new needle threaders, a pair of scissors for hardanger, Caron Watercolours - burnt toast and flame - for L&L Autumn Angel and tape to attach my fabric to my scroll rods...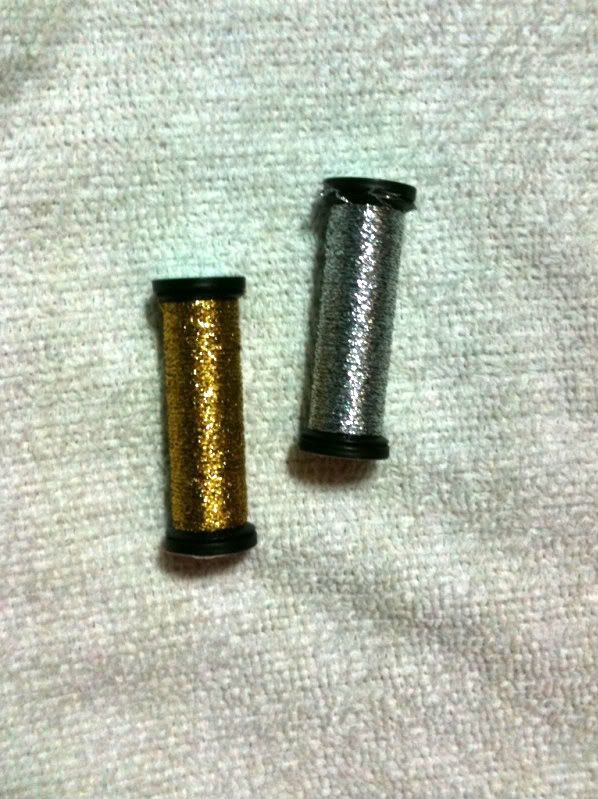 Kreinik #4 braids that I forgot to add to the last picture, lol. Silver HL and Citron.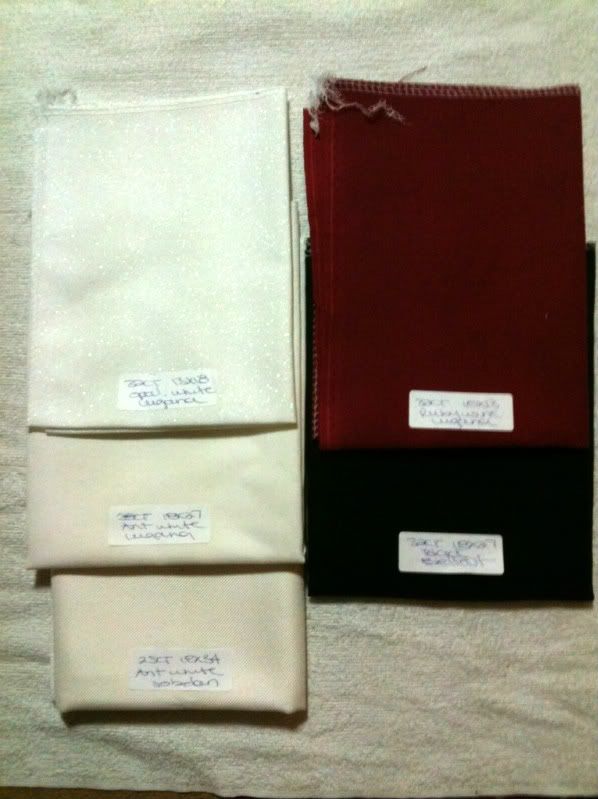 A selection of fabric for various projects - the top one on the left is an opalescent lugana, 32ct, I plan on teaming with the Ruby Wine on the right, also a 32ct lugana, for a Christmas project... There's an antique white 28ct lugana which I was planning on using for the advent calendar but now it's here, I'm not so sure. A 25ct jobelan that will be for Train of Dreams at New Year and a piece of black belfast ready for my conversion of Celtic Christmas.
Charts... Oh how I love new patterns. I've been waiting on these for what seems forever! *big cheesy grin* Celtic Christmas, Winter and Spring and Passione Ricamo, Once Upon a Time. At the last minute I decided I wanted Lizzie Kate's kit for "ABC's of Parenting." I've just recently discovered a love for Lizzie Kate. I'm going to buy myself the Christmas ABC as a Chrissy Pressie in December - shh, don't tell Guy! LOL.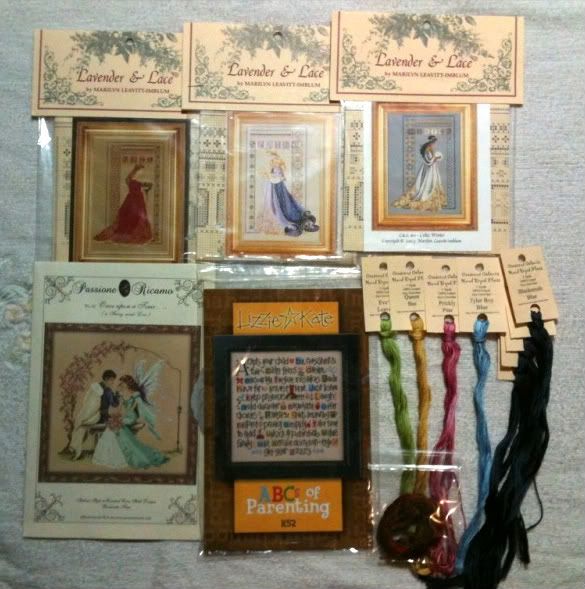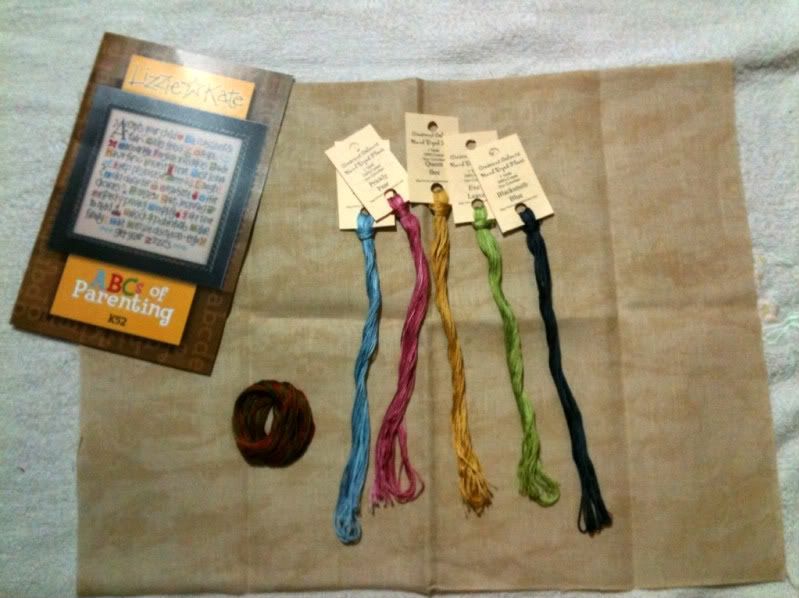 Finally... I had a bit of a play around with fabric for the ABC - I found this on my last trip to the (not so local) LNS - you know, the one that tends to bring on a bad attack of basketitis... it's apparently a stamped fabric. 28ct Cashel. I like it a lot. It'll be my first "fancy fabric". Here's my floss toss - I LOVE the Crescent Colours combination. The fabric is nice and light. I don't think anything will be lost on it... Opinions?
I almost spent some money in the Polstitches sale this weekend. I have to admit I chickened out a the last minute. I really wanted to buy some fabric but I know I've got so much lined up already and I couldn't make a decision... *sigh*
Well, night night everyone. I've just finished watching the F1 race at Spa - Woo Hoo! Another Red Bull 1-2, just a shame it wasn't MW at the top of the podium. I've got to get some sleep though - the MotoGP is on in another three hours or so and it's already after midnight.
See you in the morning :)
Happy Stitching
xxx
K