I'm pretty simple to please, really. (My DH might disagree...) It doesn't take much to keep me happy. The thing I've most wanted of late, is time. Just time. Time to myself. Time to stand in the shower without having to rush so that I can't enjoy the hot water. Time to move leisurely 'round the supermarket and not have to dash in, dash out. Time to do stuff without having to yell at the kids to "Hurry up, Mummy's got to go to work!" Most of all I've wanted time to stitch...
Amazingly, time is exactly what I have had over the past week!
You all know I finished "Hope" a few days ago. Well, last night (actually 12:50am, this morning) I finished "Imagine".
Wooooooo Hoooooo!!!
I didn't think I'd get a chance to do any more to Imagine this year, let alone actually finish it!
Remarkably, against all odds, here it is: Joan Elliott's "Imagine" on 32ct Blue Whisper linen. DMC floss, Kreinik 032 BF added for a little sparkle in the starbursts (I did that for all four words - I do love sparkles!) and Mill Hill beads attached with YLI invisible thread.
All four words on the one piece of fabric...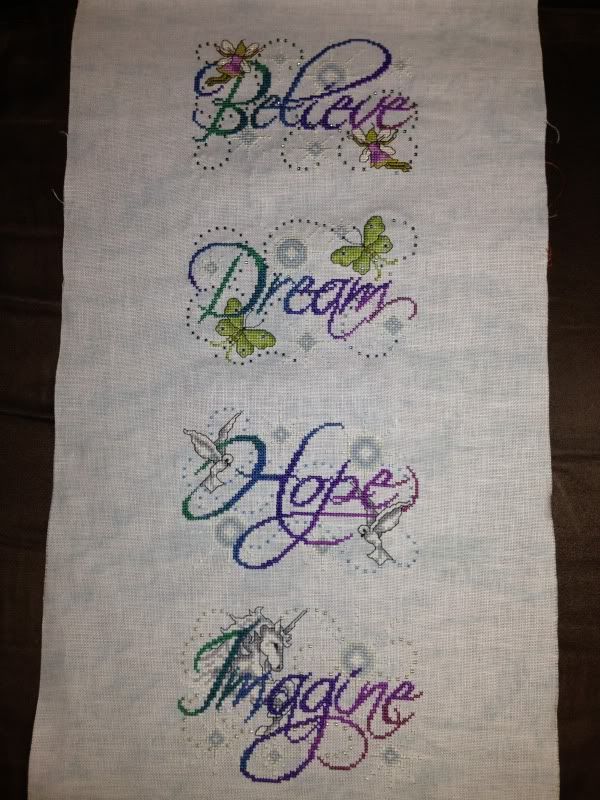 Like I said, it doesn't take much to make me happy...
LOL!
xxx K