Alive without breath,
As cold as death;
Never thirsty, ever drinking,
All in mail never clinking.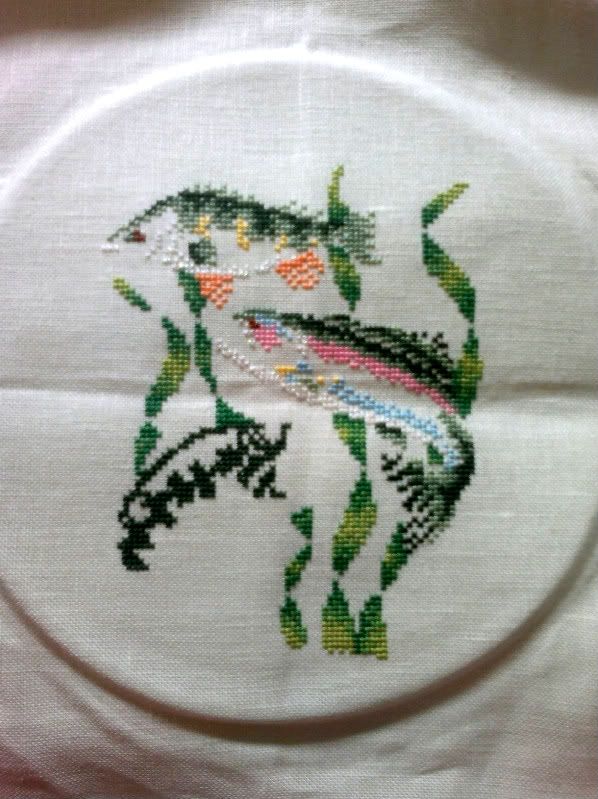 For those of you who guessed, yes, they are fish. My Dad has been a mad keen angler all his life and I just could not resist stitching this piece for him. The fabric, as you would have seen in my previous posts, is a soft mint green Belfast. Weird how in the photo, it looks off white or creamy...
The empty spaces on the two top fish will be filled with Kreinik #4 and #8 Braid. I had to order the braid from 123stitch and lucky for me, I got in a few days before our soaring Aussie dollar dropped dramatically. I'm guessing the package will arrive by the end of this week, so if I can get the rest of the stitching done before then, I'll be done by the end of next weekend! A two week stitch - that's a record for me!
Oh, the chart can be found
here
. It's a Kreinik freebie. "Freshwater Fish." The chart calls for braid but you could just as easily substitute plain DMC. I'm loving the realistic look of the scales that comes from using the braid. I already had the pearl #4 but there are four others too.
And the quote?
Gollum's fish riddle from The Hobbit.
Happy weekend stitching everyone.
xxx K