Can you believe a month rolled around
that
fast?
I can't!
If you don't know about IHSW, click on the cute little "Hermie the Crab" button on the side bar, down a little to the right hand side.
You'll find yourself at Joyce's blog where you'll find all the information you'll need.
I've got another new start for this weekend. Yes, yes, I know. I'm not supposed to do that but this time it's for my Dad. You can't hold that against me, surely?
Dad's turning 70 in November. Seeing as I'm stitching the Sweetheart Tree Sampler for Mother, I figured Father might be somewhat upset (and rightly so) if his darling oldest daughter (That would be
me
) didn't do something special for
him
, too.
Ok, here's the floss toss... I wonder if anyone can figure out what might be going on here?
Oh, and I've suddenly realised I didn't update my progress on the LK ABC earlier in the week, so here's a pic of that one too: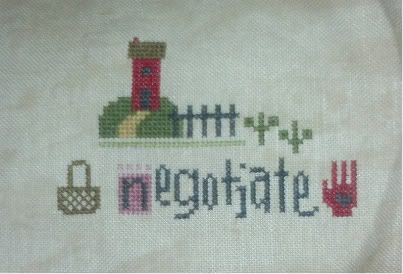 Alright, I'm off. Time to stitch!
Looking forward to seeing everyone's progress over the weekend.
Happy Stitching :D
x K