A Happy Easter to you all! We spent Sunday with dear friends doing very little. The kids had an egg hunt in the back yard, we took them to the park and that was about it. Loved it.
Saturday night, I made headway on the sampler. More frogging - aargh! - but it's worth it. I'm very happy with it so far. I decided to add all the beads to the top half. They're such pretty colours that I couldn't resist playing with them.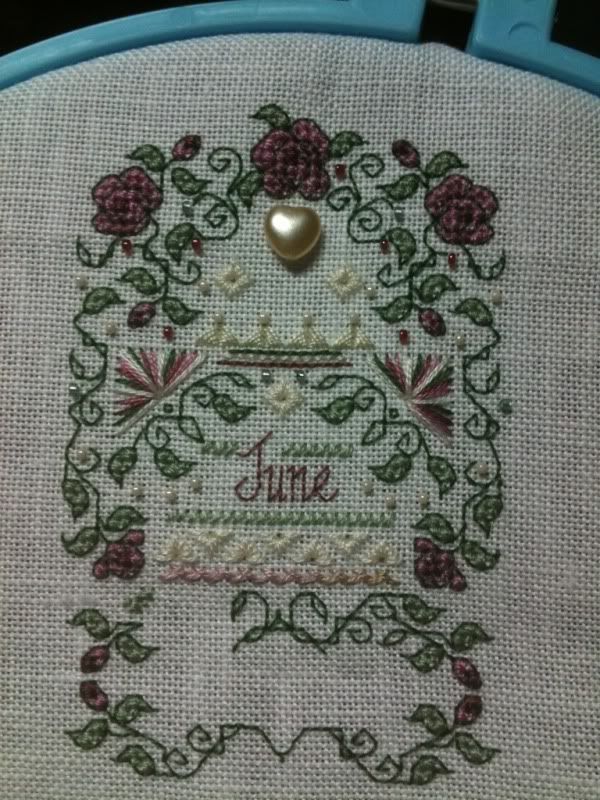 The chart calls for them to be attached with DMC 822. I've changed this out for Ecru but decided to attach the beads with YLI invisible thread.
This is all well and good - looks great but have you ever tried to thread a super fine beading needle eye with two strand of invisible thread? There's a reason this stuff is called invisible thread. It's
invisible!!!
Well d'uh!
I first used this on the beading for the Letter T so luckily, this time, I knew what I was letting myself in for! LOL. I recommend you use the loop method to get started. It's way too hard to keep track of your tails for tacking down on the back - remember, this stuff is
invisible! -
The bonus is; it's invisible! You don't need to worry about carrying the thread too far and it being seen through from the back! I attached all those beads with just two pieces of thread! Yay me.
Oh, and as for how to thread the needle? Well, it's all in the way you hold your tongue!