I hate frogging.
Let me say this, right from the outset: I don't frog.
Well, that's not strictly true. I don't frog unless I ab-so-lute-ly have no. Other. Option.
Last night, I had no other option. Couldn't stitch over the top, couldn't add another stitch in. It was just plain wrong. I realised when I got to the bottom of the left hand side, that I'd done something wrong on the right hand side.... aaargh!
I really, really tried to figure out how to get around it but in the end, gave in to the inevitable "rip-it, rip-it, rip-it" of those dang frogs.
Lucky for me this is not a big design. It is loaded with quarter stitches though and they are a pain-in-the-patootie to frog. Lucky too, for me that I'd decided to do the left before continuing down the right or I would have been a real cranky-pants sometime in the not too distant future.
The final deciding factor in the "to frog or not to frog" decision: This is for my Mum. I want her to have my
best
work not my "get it over and done with" work.
So here is my Thursday night *SAL effort on Mum's Pearl and Roses sampler: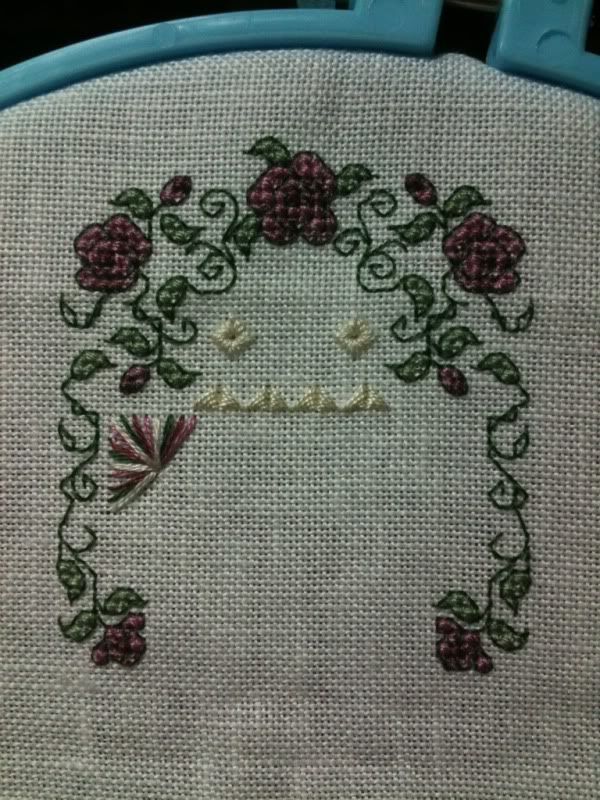 You can see both sides are lovely and even now. Both ending in the same spot. Yay. I have to say i love the effect of the Corner Stitch. There are four of these . . . one for each corner. Fancy that.
Hey, by the way; A big "Thank you" to all of you who have joined me as followers. I wish you all a blessed and safe Easter.
. . . and lots of yummy Hot Cross Buns and chocolate Easter Eggs!
MM-mm.
xxx
K
ETA: * SAL = Stitch-a-long. This particular one being the about.com cross stitch forum SAL,
"Come Stitch With Us."
We stitch Tuesday/Thursday night each week and then post our progress on the forum. No rules other than: have fun, post photos, don't forget your drool cloths. We love visitors and anyone else who loves to stitch. So why don't you "Come stitch with us?"