I love to stitch for my kids and the cool thing is, that for the moment, they love my stitching too.
They're both learning - I'll show you their stitches one day, doting mama that I am, I think they're pretty awesome.
But, the point of this post, is to show you the four pieces that hang in pride of place in my children's bedrooms.
This is Jacob's birth record. I started it before he was born. We knew he was a he and so I picked this well in advance. Hit a bit of a bump in the road when I slipped down a flight of steps eight weeks before he was born. Broke my arm. Basically put the stoppers on any form of stitching for a while there. I finally ended up finishing it in time for his first birthday.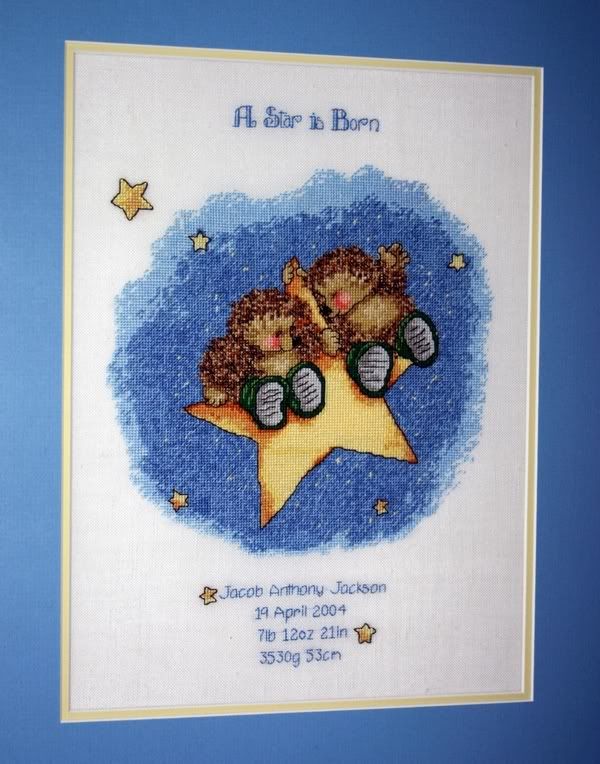 This chart came from my all time favourite cross stitch magazine, Quick and Easy Cross Stitch, which sadly, has now been discontinued. It was a British mag but they changed it when scrapbooking and cardmaking suddenly exploded onto the craft scene.
It's stitched 2 over 2 on 32 ct linen. The hedgehog's prickles used several different blends. The background took
ages.
Thank goodness it was all half stitch or I would have ripped all my hair out before it was done!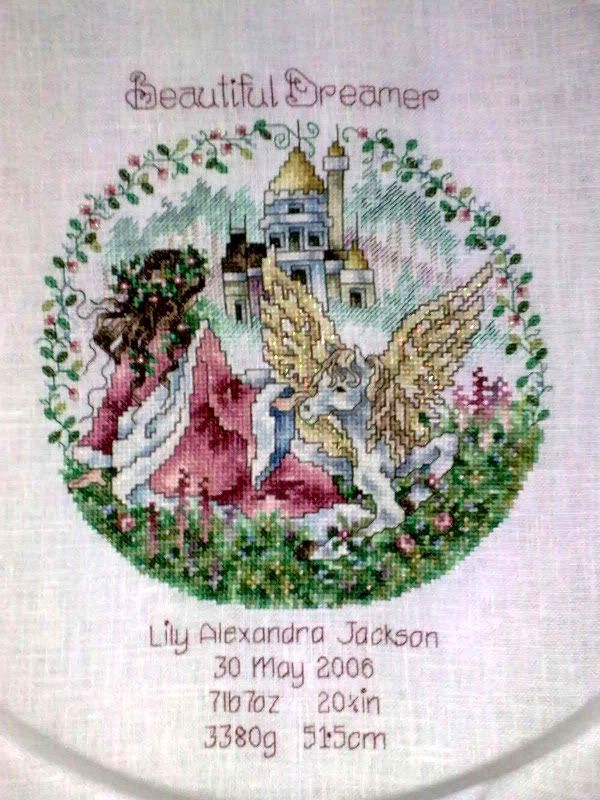 I've shown you Lily's "Dreamer" in an earlier post but I love it and I'll show it off again, just because I can! I was nowhere near as efficient in getting her birth record done. It was finished not long after her fourth birthday but because of the delay in starting, it's a piece that really reflects her personality.
I stitched these little bears during the time we were trying to get pregnant with Jacob. He's our little miracle. It wasn't looking likely that things would happen without intervention and then all of a sudden...bingo!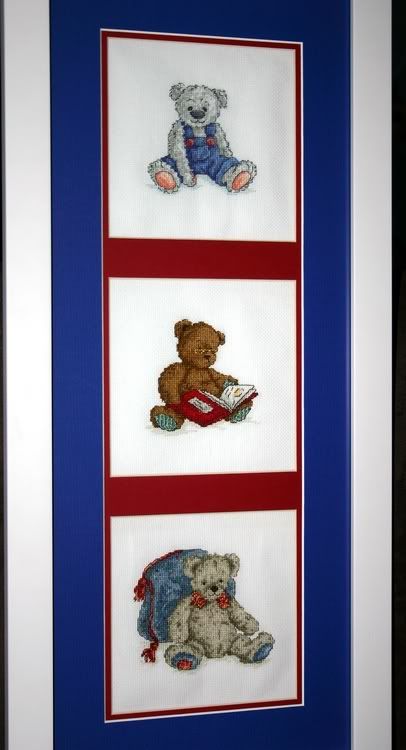 So these are also hanging on Jacob's wall. He's getting a little old for teddies I suppose but he hasn't complained, so they'll stay as long as he wants them. Then we'll put them away for his firstborn... sometime in the far distant future... LOL.
Lily was our surprise baby. She wasn't planned but was a very, very welcome surprise when she did pop along. Whilst expecting her - and knowing she was a girl - I stitched some more teddies. This time, my favourite little bear: Newton. He's just adorable and I couldn't resist stitching him several times over.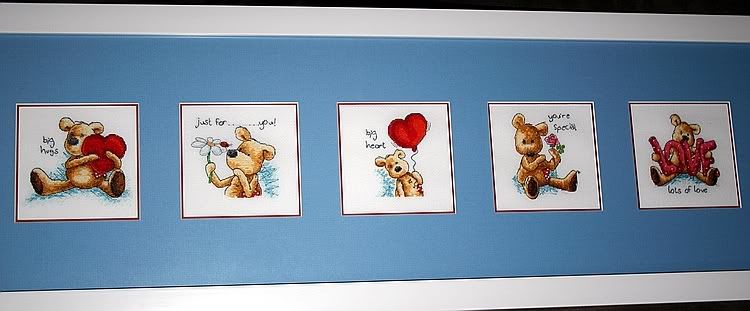 They're growing up, my babies. Jacob would like me to stitch "Train of Dreams" from HAED. I guess that'll replace the teddy bears... If I get started now, I might finish in time for his tenth birthday. Train's a whole lot smaller than Queenie, after all...
LOL
xxx
K
ETA: BTW, I cheated on Newton's white spots - I couldn't do French Knots back then, so I used white beads...