I hit the 3000 stitch mark on Queenie. Sounds like a lot but there's such a long, long way to go yet. I've got another thousand stitches before I even make it to halfway through the first page...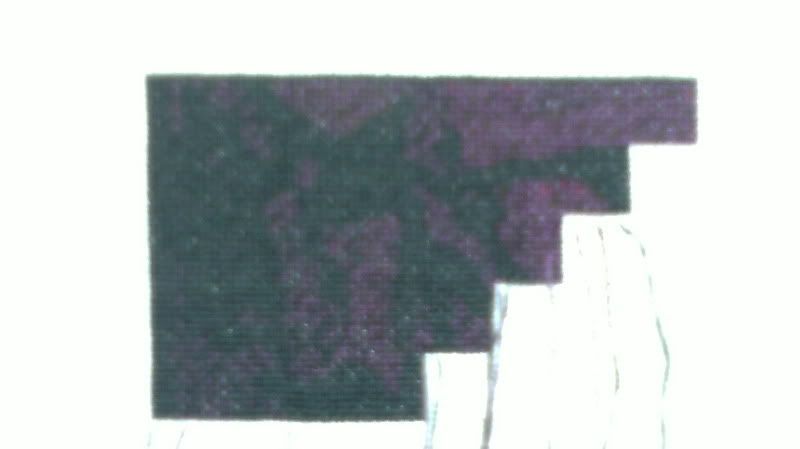 Queen of Hearts. 3000 stitches.
Don't get me wrong though. I'm really enoying working on Queenie. The whole monochromatic thing is a new experience for me though. So far this is all Black 310, and Purple 154. There's a smattering of "Back Stitch Brown" 3371 and five, yes, count them if you can, five stitches in... oh rats, another colour that has just escaped my brain.
My last two major finishes were both Stoney Creek pieces. The first was my daughter's birth record. For such a small design it had huge number of colours. More than Queenie by a long shot! I think it was 72 different colours, 28 were different shades of green! Can we say CONFETTI to the MAX! Here it is: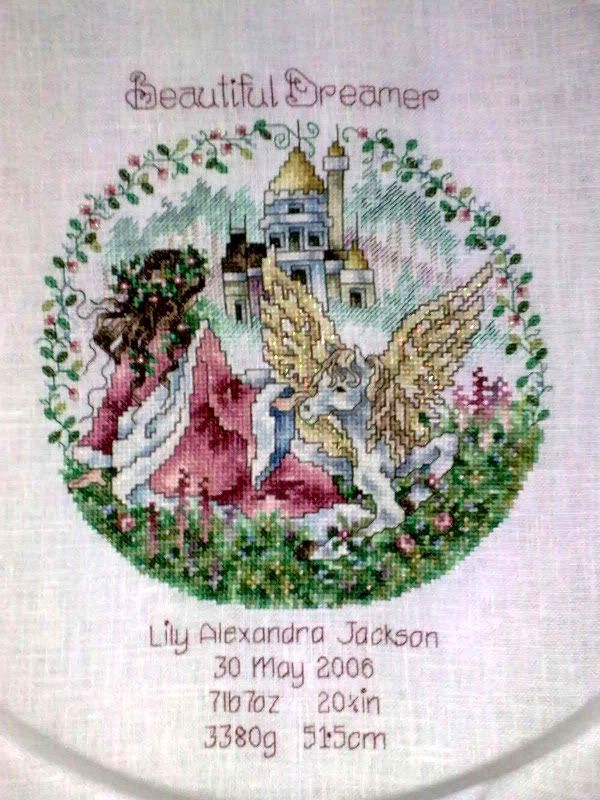 Stitched on Antique White Belfast.
Beads, Kreinik BF's, a bazillion quarter stitches... I loved every stitch... although, I do admit to getting a bit bogged down when I was doing the confetti at the bottom.
I finished Beautiful Dreamer in 2010.
Early this year, I hauled out an ancient UFO. I've made a resolution not to start anything new until I've finished all my WIP's and UFO's. I think I need to amend that to "don't start any new MAJOR project" as I've already started some new bits and pieces. (I guess I've just found the topic for my next blog post)
So this ancient UFO. Well, I started it back last century - really ancient, LOL. 1996 to be exact. My flatmate at the time chose it. It was supposed to be for her 21st but somewhere along the way, she disappeared off the radar so I put it away. It was never a favourite of mine back then but in finishing, I discovered a love for it so I'm quite happy that I get to keep it!
I intend to get it framed and hang it in my music room.
Again, it's a Stoney Creek. 50-odd colours, heaps of confetti, quarter stitches, back stitching, BF's and Gold Cord.
This means that my venture into the world of HAED is only daunting because of the sheer size of the undertaking. The stitching itself is easier than even
my very first cross stitch
. It had quarter and three-quarter stitches on aida! No-one told me to start on something small, LOL.
xxx
K