Can you believe it's the night before the night before Christmas? I can't!
For day 23 of the Advent Calendar I thought I'd show you my advent calendar.
I started this a few years ago now but this year I managed to complete all 25 little pieces.
Next year I will finish the actual calendar so we can hang it for Christmas 2012.
The Calendar itself is on 28ct ivory jobelan. The daily pieces are on 14ct plastic canvas.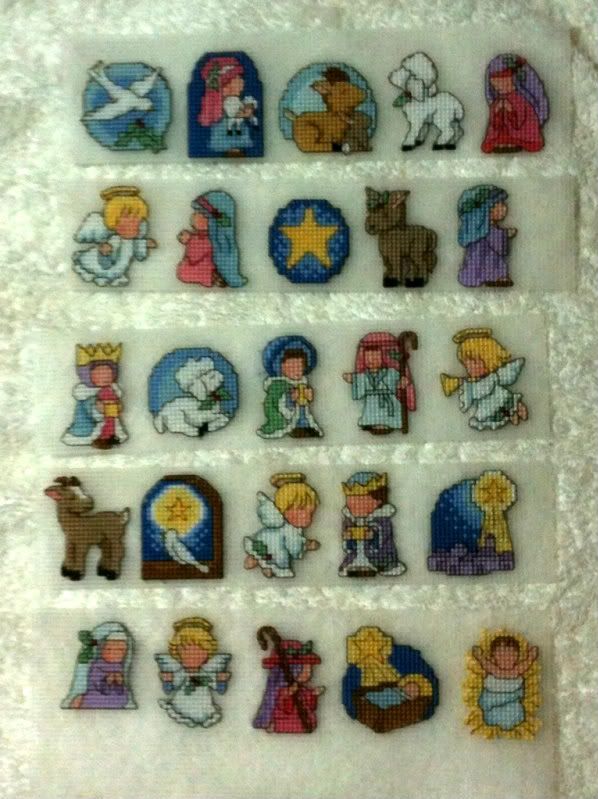 Dimensions Advent Calendar
14ct plastic canvas.
We've been a bit behind schedule for Christmas at our house but we finally got some decorations up yesterday.
Our Christmas Shelf
The kids set this up. Most of these ornaments have special significance to at least one of us. The tree up top was a present from one of my students as are the two angels in the centre. The snow globes belong to Jacob and Lily and Santa leaves them each a new one on the shelf each Christmas. There's a Santa driving a golf buggy - top right corner - he was my MIL's, she's been gone four and a half years this Christmas and we still haven't got used to her not being around for Christmas. The snowmen on the left were carved by a very talented lady - Kelly - from the about.com cross stitch forum.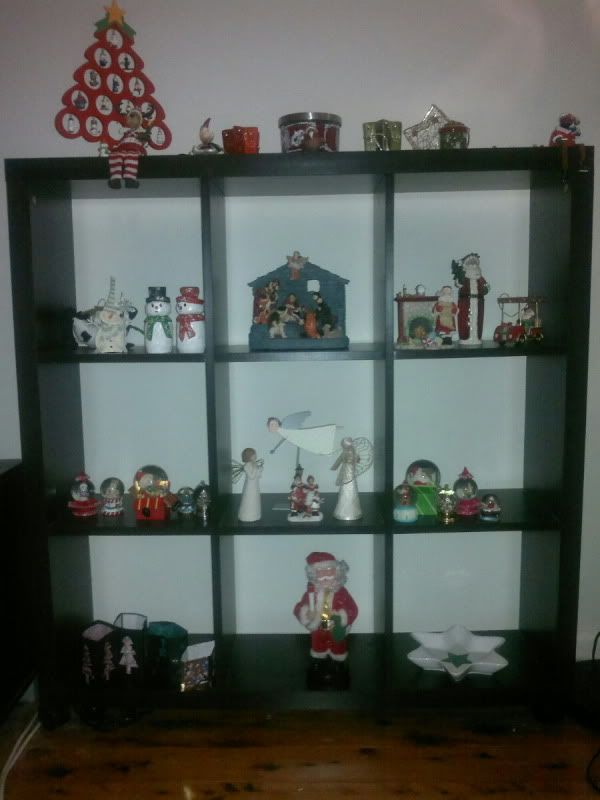 Our Tree
Sadly, we've never had a real tree. I'd love one but they're just so darn expensive that it's much better for our pockets to spend money on other stuff rather than a real tree. Even so, our real fake tree is special to us. The first Christmas after we got married, we had no money - lol, nothing's changed, we never have money at Christmas, it's the nature of both our jobs. No teaching, no income - but I was determined we were going to decorate anyway. Well, this is our 11th Christmas and the tree has certainly given us our money's worth. Again, we have a bunch of ornaments that are special to us as well as some that are just "pretty little space fillers". Yes, that's a train running round the base - We all love Thomas the Tank Engine so I bought a Christmas Thomas set which has a carriage that plays jingle bells!
For us Christmas in Australia is all pretty laid back and casual. We usually alternate Christmas one in Australia and then one in New Zealand. This year, we're staying in Australia. Tomorrow night, Christmas Eve, we'll go for a drive to look at the lights. When the kids go to bed, Luke (oldest Stepson) will run outside to shake the sleigh bells - the kids get into bed like lightening 'cause I tell them Santa's flying over on his way to New Zealand to visit their cousins and will be back to us very soon! I'm sure they'll be up early to see what Santa has brought them. We'll have pancakes, maple syrup, bacon, bananas and fresh orange juice for breakfast. Then we'll open pressies under the tree. We'll try to make it to church. Lunch this year is only us, so we're having home made garlic prawn pizza and lots of fresh salad. Dinner we'll be joined by friends for cold roast chicken, turkey and pork, again with lots of fresh salad.
We all love Christmas Carols and we listen to them at every given opportunity
My Best Friend knows me very well :) She posted me this clip on Facebook a couple of days ago.
Oh Holy Night is my favourite Carol and men singing amazing harmonies just reduce me to mush. So, first of all, this raised all the hair on my arms and then had me in floods of tears...
Please enjoy Straight No Chaser's rendition of Oh Holy Night.
Have a wonderful Christmas everyone. I feel very blessed to have met so many new stitchy friends this year. Thank you for visiting my blog. I hope to get to know more of you in the coming year.
I wish you all joy, peace, prosperity and God's richest blessing for you and your families for 2012.
Oh, and if you want to check out all the entries for the on-line calendar, hop over to
Jo's blog
to find the link for each day.
Much love
Kirstin