I soooo need new glasses!
Hmph.
Usually, I love beading. I have no trouble with the YLI invisible thread, in fact, I love it. But not tonight.
I can't get my needle threaded. I can't see the eye of the needle. I can't see the hole in the bead.
Aaaaargh!!!
I'm desperately trying to get my one and only Christmas ornament finished in time to post for an exchange. I've still got a couple of days up my sleeve but my eyes are driving me nuts.
Ok. Whinge over.
The positive side of things - I'm really rather chuffed with how the ornament is turning out. Can't show photos of course... which reminds me - I don't believe I showed photos of the scissor case and fob I made for the last about.com exchange.
Hold on a mo and I'll see if I can rustle up a couple of pics...
Scissor Case and Fob.
Stitched on 28ct black Monaco.
Gloriana Silk "Twilight"
Lining 28ct Lilac Cashel Linen
Mill Hill Glass Beads
Stitched design is mostly my own with a few "borrowed" elements from
here
but the finishing instructions I found in an excellent tutorial
here
. This was my first attempt at real hardanger, ie: cutting, my first time stitching on black and my first time using silk! The case is lined with lilac linen to match the gorgeous variegation in the silk.
Ooo - I've just noticed I've got some new followers! How very exciting!
*Waving* Hellooo! How lovely to have you. Thank you for joining me here!
Well, I'm off to bed to give my poor eyes some rest. It's almost 1am. Again.
Night, night. Sweet dreams.
xxx
K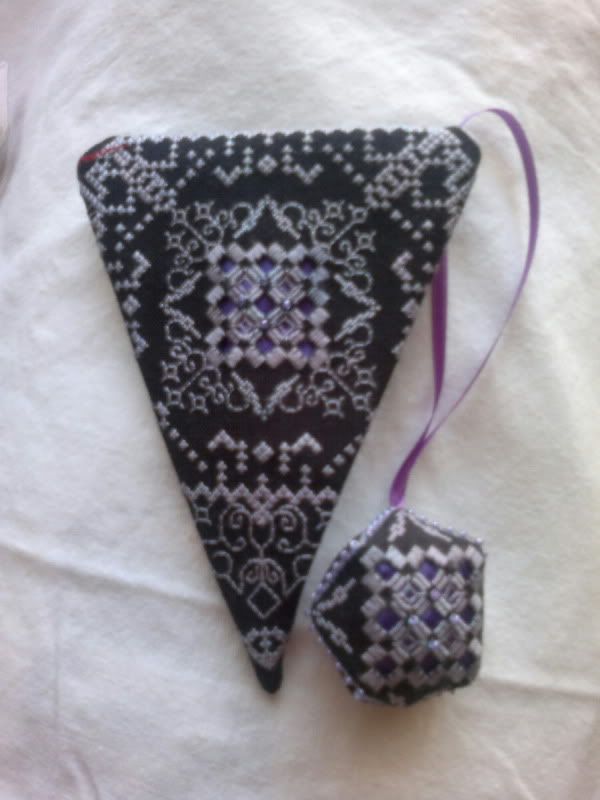 Back view.
I made the centre of the back to match the back of the fob.
Both cut sections are lined with purple satin.