Day six... not so much stitchiness yesterday but still well and truly acceptable as CJC start.
I didn't pick up my needle until 10:30pm!
I wanted to start Nora's "Lilly" but discovered I am actually missing ecru! What colour turns out to be smack in the middle of the chart? Ecru of course. I'd already kitted this up a couple of weeks ago but somehow missed this important fact.
D'oh!
*smacks forehead*
I sat down with my box of crazies at 9pm and decided to do couple of floss tosses with Lilly before I started. I bought the chart and fabric (antique white, 32ct Jobelan) for Lilly ages ago, long before I discovered the Mira/JE forums and the amazing hand-dyed fabrics so many of you use. I don't have a stash of hand-dyed fabric - yet - but I do have some other beautiful pieces of linen and evenweaves. I settled on a lovely piece of antique ivory permin linen. It's a gorgeous pale buttery yellow and sets off the colours in this particular Pixie beautifully.
So I was all set to go...and then, no ecru. Poo.
I could have counted across and started with another colour but the plague of rabid rip-its has been hovering so closely over this crazy 15 that I wasn't going to chance yet another miscount!
By this time, it was now after 9.30 and I was no closer to getting started. I grabbed out the kit of the Enchantress instead. Figured I could start a BAP. It would mean starting with half stitches which would mean fairly speedy progress and then day six wouldn't be a total write off.
*sigh*
Forgot I hadn't yet sorted the floss bundles in the kit. It's not difficult, just time consuming. It's an excellent Dimensions Gold kit. The floss comes in four bundles. The floss cards make it very easy to sort them correctly but after one bundle, I checked the time and put it all away again.
Alright, I'm getting to the point!
I ended up starting "Dream". Should have sat down with it from the beginning being that everything was there already, because I'd worked on "Believe" the day before.
Ahh well... so 10.30 rolled around and I finally got going. Stitched until 1.30am and this was the result: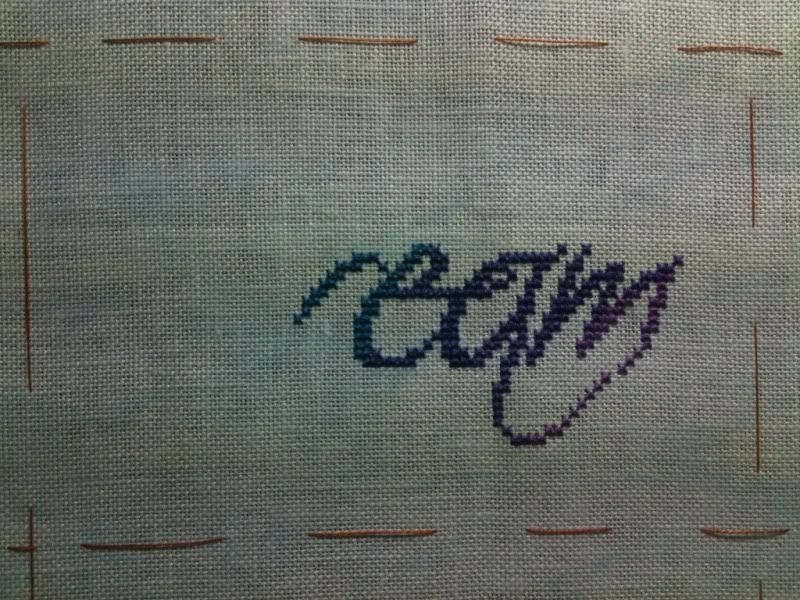 Joan Elliott "Dream"
32ct Belfast Linen Vintage Blue Whisper
DMC floss
There was a minor amphibious attack around 1am but I was able to fix it with minimal trouble.
*
I now have "Believe" and "Dream" on the one piece of fabric.
Day Five and Six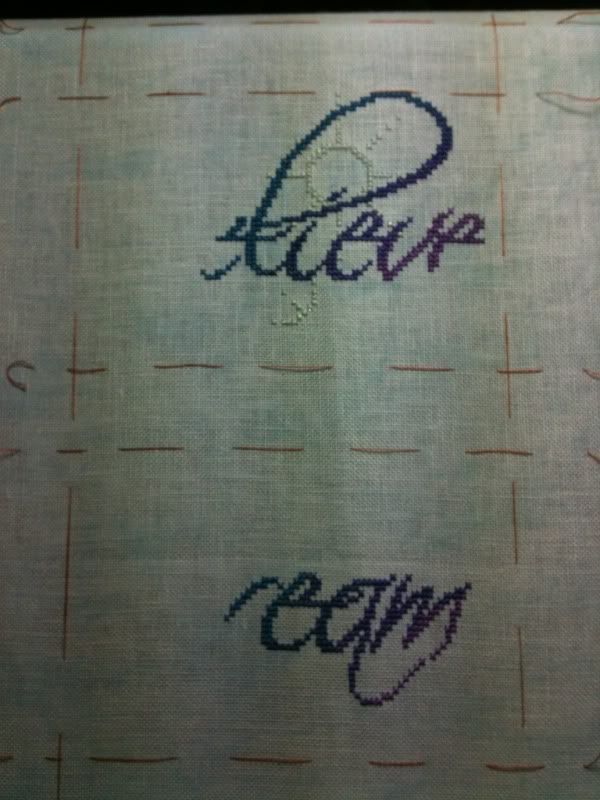 To minimise time wastage today, I'm just going to continue on with the theme and start "Hope." Should be safe with that! I have this whole piece on my small scroll bars. They will all need beading before they're done so I thought the scroll would be safest in the long run. I can bead from the top and roll each one away.
Onward into another stitchy day - no stitching tonight. We're going to see Cars 2 at the Olympic Park Twilight Cinema - but I'm hoping to get a couple of good hours in during the day. I'm going to be a bad Mama and let my children be amused by electronic devices.
Happy Crazy Stitching all!
xxx
K