Thank you so much for all the replies encouraging me to have a go at a Chatelaine.
I will be saving up my pennies to get the chart and supplies for Evening in the Park.
Now for opinions on fabric - 28ct or 32? I prefer 32ct but have no experience with Delica beads or Swarovski crystals - how closely embellished does Martina design these?
Ooo, now, just 'cause I feel the need to justify to myself that it's ok to add another new start to this year's list, I finished
"Alto Gether Now"
last night!
Alto Gether Now

Ink Circles "Alto Gether Now"
32ct antique white lugana.
Crescent Colours overdyed threads.
First Bass and Alto Gether Now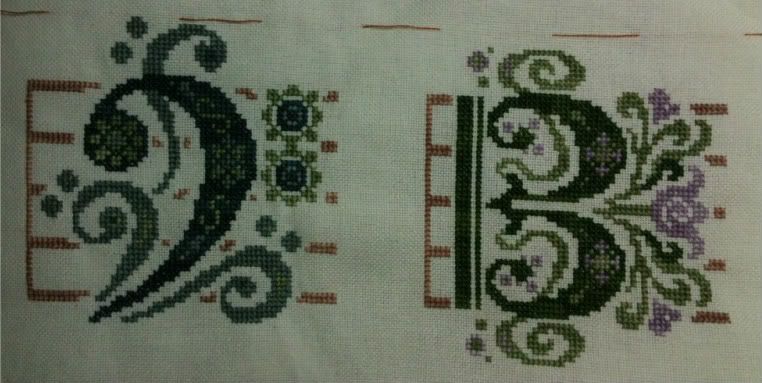 Here Comes Treble is on the same piece of fabric, off to the right...
I wasn't happy with the ends of the stave lines. The chart has them
all uneven lengths. I re-did the lines on First bass and changed them
on Alto, so they are all even and square off the designs. Much
happier with the look now. It didn't look finished to me before. Now it does.
 I also made a little more progress on Here Comes Treble, so I'm anticipating another finish before the end of the month.
Uh-huh, uh-huh, see, I can do enough to be allowed a Chat!
LOL
Happy Stitching
Kirstin