and the end of SWAT too.
It was really hard to get the mojo revving yesterday. I'm feeling the fatigue. I've stitched every single day since Christmas Day - including Christmas Day - and I was stitching almost daily in the run up to Christmas.
The thought of achieving another Happy Dance before the end of the month is spurring me on, however, so I summed up my stitchy courage and got cracking on "Alto Gether Now."
This was my
CJC day two start
and it really does stitch up quickly.
I love the Crescent Colours floss and I'm pretty happy with the 32ct lugana. I did spend a little time wondering if perhaps I should have gone with linen after all but I like the heavier look of the lugana with the pieces. If the clefs were delicate and lacy then linen would have been the right choice. These remind me of old
Illuminated letters
. I think the lugana echoes the heavy parchment pages of those old books and scrolls...
I'm over half way with Alto... if I can get the mojo bubbling again, I might get close to finished. I have a rehearsal tonight, so definitely not as much time today but enough to get close...
Alto Gether Now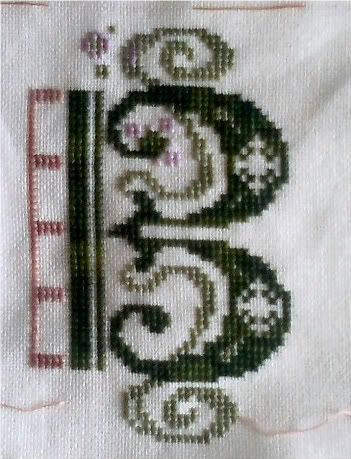 Ink Circles "Alto Gether Now"
32 ct antique white lugana
Crescent Colours Cotton


I hope you have all had a thoroughly successful IHSW. I'll head off and start stalking blogs from the list soon!
Have a fabulous stitchy day!
xxx
K